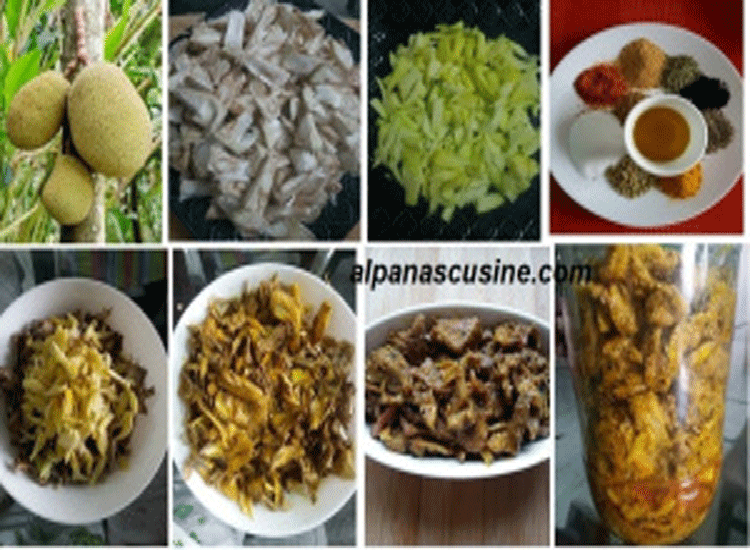 KATHAL KA ACHAR
Jackfruit pickle is the healthy, delicious and tangy taste. This can make dull meal even full of fun. .It has dietary fibre, minerals and vitamins ,yet to contain with no saturated fats or cholesterol.Jackfruit pickle made with raw Jackfruit ,mangoes and spices. This  pickle is very easy to make but it takes longer  time to mature.
INGREDIENTS :
Kathal(Jackfruit) 1 kg
Raw mangoes 1/2 kg
Mustard oil  400 grams
Turmeric powder 2 tablespoon
Red chilli powder 2 tablespoon
Fennel seeds 2 tablespoon
Cumin seeds  1 teaspoon
Fenugreek seeds 1 teaspoon
Mustard seeds 5 tablespoon
Onion seeds  1 teaspoon
Salt 100 grams
Asafoetida 1/2 teaspoon
Vinegar 4 tablespoon
METHOD ;
Apply oil in your hand and knife and cut the Jackfruit into 2 inch long pieces.Remove the thick peeling of jackfruit , keep the white portion intact with rest part of jackfruit and remove little central hard portion so that base and fibre remain intact together.
Peel and cut the mangoes in 2 inch long slices.
Now par  boiled the jackfruit in the steam(not directly in the water).Drain all the water, dry Jackfruit and mango pieces in the direct sunlight for 5 to 6 hours
Heat the pan and separately lightly roast all the spices ,let it be cool.After that make a coarse powder of roasted spices.
Now in a bowl take jackfruit , mango pieces ,turmeric,red chilli powder,salt,roasted spice powder,vinegar and oil and mix well.
Now take a clean glass jar and give asafoetida fumes inside the jar,then fill the jackfruit pickle in the jar.
After that pour the remaining oil and vinegar on the top of the jar and put the lid on it.
And put the jar under the direct sunlight for 3-4 weeks.
ENJOY THE TASTY JACKFRUIT PICKLE WITH YOUR FAVOURITE DISH
TIPS    :Always give asafoetida fumes inside the jar before filling pickles in it.
             For long lasting of achar ,no water remains in the jackfruit ,so dry properly.