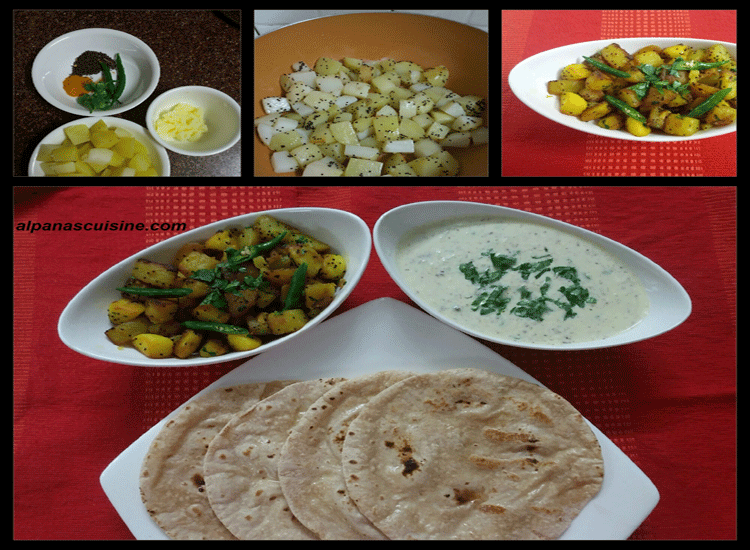 JAKHIA ALOO WITH KUMAONI RAITA
These traditional recipes are from Uttarakhand.Recently we had visited Ranikhet (Uttarakhand)  and stayed  at Kumaon Mandal Resort. During my stay I had tasted  this dish. This dish was prepared by one of the cook at the same Resort . These people are large hearted , religious  and very Simple. In fact this dish is also very simple .  Jakhia (Cleome Viscosa) ,a taste of mountains and used for tempering all types of vegetables and curries.This dark brown granular seeds has nutty aroma which adds unique and crunchy flavour to any dish.
 JAKHIA ALOO  
INGREDIENTS:                          
Potatoes medium 4
Pure ghee 2 tablespoon
Turmeric powder 1/2 teaspoon
Jakhia seeds 1 teaspoon
Green chillies 3
Fresh coriander 1 tablespoon
Salt to taste
METHOD 
Half boil the potatoes and cut into cubes.
Heat the pure ghee in a pan,add jakhia ,when starts spllutring then add
potatoes.Saute till golden brown.
Now add turmeric powder ,salt and green chillies and mix well.
Cover the pan with lid and cook for 5 to 7 minutes .
Serve hot and garnish with fresh coriander leaves.

Raita is prepared with cucumber , curd and mustard seeds with the pungent taste of mustard.
KUMAONI RAITA  
INGREDIENTS                            
Cucumber 250 grams
Curd 250 grams
Black mustard seeds 2 tablespoon
Chopped green chillies 5 to 6
Fresh coriander leaves 1 tablespoon
Salt to taste
METHOD  
Peel and grate the cucumber and squeeze the water.
Beat the curd,add grated cucumber and turmeric powder,mix well.
Soak the mustard seeds for 30 minutes ,then grind it into a fine paste.
Now mix the mustard paste in curd /cucumber mixture,add chopped green chillies,salt and mix well.
Keep aside the raita for 2 to 3 hours to enhance the mustard flavour.
Kumaoni Raita is ready to serve with Jakhiya Aloo and Chapati.