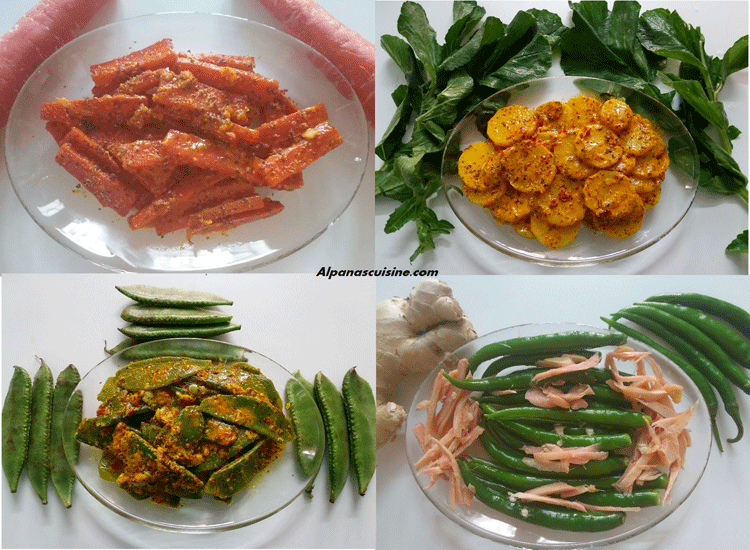 INSTANT SEASONAL PICKLES
Achars (pickles) are the very important part of Indian Cuisine.No meal is complete without Achar.There is no comparision of home made pickles and its flavours.
Achars are flavour enhancer of any meal specially in winter.The seasonal vegetables pickles are very tangy and spicy in taste.Try these simple instant seasonal pickles which most enjoyed with stuffed parathas.
INGREDIENTS  : FOR CARROT ,RADISH, BROAD BEANS AND CHILLY+ GINGER PICKLES
CARROT PICKLE :Carrots 2 medium size cut into 1,1/2 inch strips ,Mustard or Rai powder 2 tablespoon,Turmeric powder 1 teaspoon,Red chilly powder 1 teaspoon,Vinegar 2 tablespoon,Salt 1 teaspoon,Mustard oil 3 to 4 tablespoon,Garlic 5  cloves
RADISH PICKLE ;Radish 2 medium size ,cut into 1,1/2 inch strips and rest of the ingredients are same as of carrot pickle
BROAD BEANS :Broad Beans 100 grams,string beans and thread removed.(check inside the beans for insects),rest of ingredients and quantity are same as of carrots and radish.
GINGER AND GREEN CHILLY PICKLE : Green chillies 100 grams ,slit the chillies ,Ginger 100 grams ,cut ginger in juliennes,Lemon juice 5 tablespoon,Vinegar 1 tablespoon,Salt 1 teaspoon
METHOD : CARROT ,RADISH , BEANS PICKLES
Rinse,peel and cut the vegetables

Boil  2 to 3 cups of water in different pans and add the vegetables(carrots,radish,broad beans).Stir and blanch for 3 to 4 minutes and drain the veggies very well.

Now dry the blanched vegetables in the sunlight completely,there should be  no moisture on them.

Jar should also be dried  completely.

Now place the dried vegetables in three different jars or anything you like.

Then add all the ingredients like(mustard powder,red chilly powder,salt,vinegar,mustard oil,garlic and mix well.

Keep the pickles in the sunlight for 4 to 5 hours.

Your instant seasonal pickle is ready to eat.
METHOD : GINGER & GREEN CHILLY PICKLE 
Wash and cut ginger and green chillies.Dry  ginger and chillies in the sunlight, so that there is no moisture left in the ginger and chillies. Now mix ginger ,chillies,salt and lemon juice and mix well.Now put the jar in the sunlight for 5 to 6 hours.The pickle is ready to consume for 3 to 4 days.
TIPS  :
 Always use dry and clean  jars for keeping pickles and wipe the rim of the jar nicely.

Use vinegar to keep pickles fresh for more days.It works as  preservative.