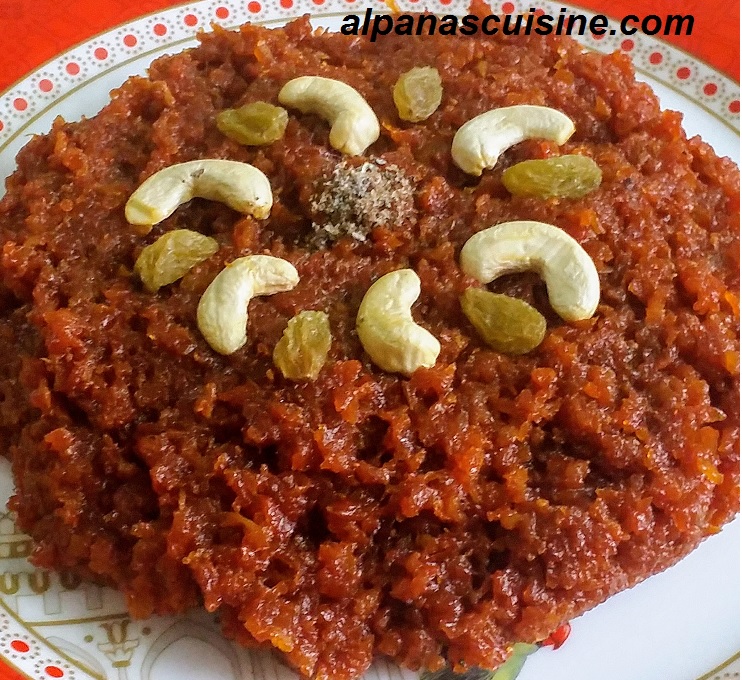 GAJAR KA HALWA
Gajar(Red Carrot) Halwa is very famous in North India specially in winter.It is one of the favourite Indian sweet disheh It is full of nutritious value .We can make it in different ways.
INGREDIENTS :
Red Juicy Carrots 1 kg 500 gms
Full Cream Milk 1 kg
Fresh cream/Malai 1 cup
Pure Ghee 5 tablespoon
Sugar 1/2 cup
Cardamom powder 1 teaspoon
Cashews 20 pc
Raisins 20 pc
METHOD:-  
Wash the carrots,peel it and grate it.
In a big kadhai add grated carrots and milk and bring the whole mixture to boil.When boiling starts, low the flame, cook the grated carrots and keep stirring in between and add malai.
When milk start to reduce and and carrots mixture become thick add pure ghee and cook till it leaves ghee and keep stirring in between on low flame till  color of Mixture became dark red color.
Now add sugar and mix well in the halwa
Add cashews,raisins and cook on low flame.After 5 minutes add green cardamom powder and mix well. Gajar ka halwa is ready.
Serve hot or cold.