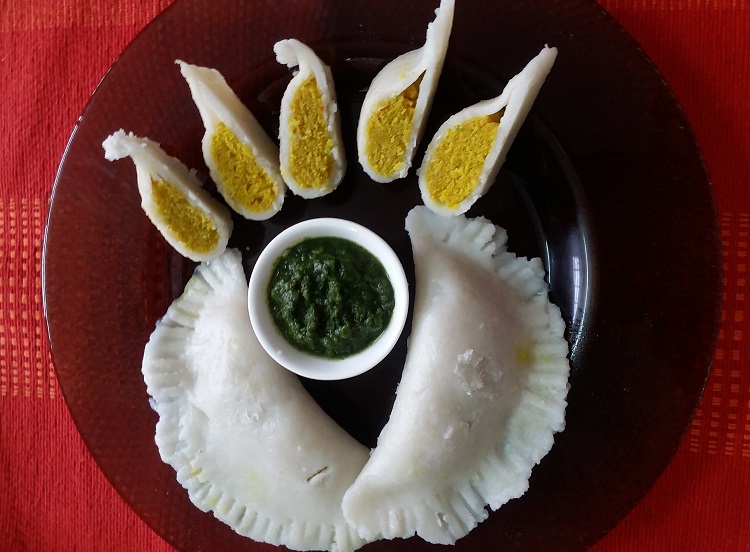 DAL PITHA / FARA
Dal Pitha is a delicious indian recipe and it is a traditional Bihari delicacy which is very popular  in Bihari Cuisine also known as rice flour dumplings .There are many varieties of Pitha with different fillings like lentils,dry fruits,poppy seeds+jaggery stuffings.Pitha has high protein  and healthy low fat snacks.
INGREDIENTS 
-making rice dough
Rice Flour 2 cups
Water 3 cups
Salt to taste
Carom seeds 1 teaspoon(optional)
– for dal stuffing
Bengal gram(soaked) 2 cups
Green chillies 4 nos
Ginger 1 "
Garlic 1pod
Turmeric powder 1 teaspoon
Salt to taste
Oil for greasing
METHOD  
Making rice flour dough
Heat the pan with  water and salt .When the water starts boiling ,low the flame and add rice flour and quickly stir everything together .Cook till everything  blends, it wiil take 10 minutes.Keep aside .
When it cool down,mix with hand and make a  soft dough.Cover it with damp cloth.
STUFFING: Chana dal/ bengal gram
Now take soaked chana dal and drain  the water.Take it in a mixer green chillies,garlic ,ginger and salt and make a coarse paste
  MAKING OF PITHAS  :
Now take the dough and once  again knead it and divide the dough  into equal  size balls.
Now flatten the balls and roll it to medium size ,place the dal mixture and enclosed it completely.
Now steam these pithas in a greased steamer for 10 to 12 minutes or dal fillings get cooked and knife comes out clean.
You can also cook the pitha by in hot boiling water  ,cook till they rise up   to surface ,drain and serve.
Your delicious pitha is ready and serve with your choice of chutney.
NOTE  
DO NOT AT ALL ADD WATER WHILE GRINDING CHANA DAL.DO NOT FILL TOO MUCH STUFFING AS IT WILL BE DIFFICULT TO CLOSED