COXINHA- Brazilian Chicken Croquettese
Coxinha is a famous Brazilian street food . Weekend Special
INGREDIENTS  :
Chicken breast 150 gms
Boiled potatoes 4 medium(mashed)
Onion 2 medium (chopped)
Garlic 2 tablespoon (chopped)
Butter 2 tablespoon
Olive oil 2 tablespoon
Black pepper 1,1/2 teaspoon
Paprika 1 teaspoon
Cream cheese 1 cup
Bread crumbs 1 cup
Salt to taste
Parsley/Fresh corinder
Egg 1
Oil for frying
METHOD  :
In a bowl take mashed potatoes,maida , salt and 1/2 teaspoon black pepper powder,add melted butter and knead a soft dough.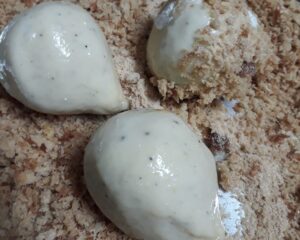 Boil the chicken with salt and pepper powder.
Now heat the olive oil in a pan,add garlic and onion,saute for 2 to 3 minutes.
Now add boiled chicken pieces,salt,paprika and black pepper powder and cook for few minutes.
Then add chicken broth and  cook till it become dry.
When chicken become cool down ,grind it.Then mix 1/2 cup cream cheese and parsely
Now divide the dough into equal parts.Roll it into a small round and fill with 1 tablespoon chicken paste,Cover it and give the solid conical shape.
Now dip in the beaten egg and then roll out in the bread crumbs.
Deep fry Coxinha in the medium heat till golden brown.Drain out in the absorbent paper.
SERVE HOT WITH CREAM CHEESE DIP.