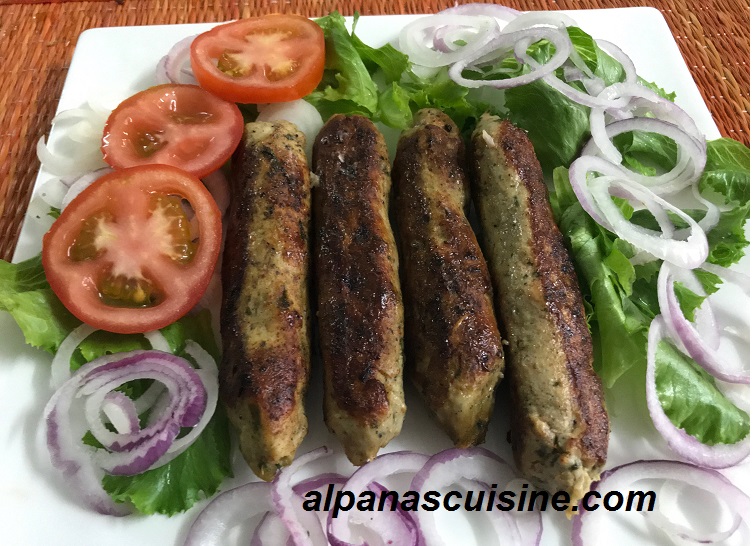 CHICKEN SEEKH KABAB
Traditionally Chicken Seekh kebabs are made by using a grill. But I tried making  kabab on  Tawa.Chicken seekh kabab  are made from minced chicken  and  pan-fried. It is very popular non veg starter .
INGREDIENTS  :
Minced Chicken  750 gm
Onion medium 2(chopped)
Ginger garlic paste 2 tablespoon
Cumin powder 1 teaspoon
Coriander powder 1 teaspoon
Red chilli powder 1 teaspoon
Garam masala powder 1 tablespoon
Salt to taste
Lemon juice 1 tablespoon
Green chilli 1 teaspoon(chopped)
Coriander leaves 2 tablespoon
Fresh Mint Leaves 1 tablespoon
Butter 2 tablespoon
Butter for basting
METHOD  :
In a large bowl combine minced chicken , onion,ginger garlic paste,cumin,coriander,red chilli and garam masala powder ,green chillies,coriander and mint leaves,butter 2 tablespoon,minced till smooth . Transfer into a bowl,add melted butter,lemon juice and mix well with hands and keep in the refrigerator for half an hour, so that kebabs become soft. If minced chicken have fat then extra butter is not required.
SHAPE SEEKH KEBABS IN SKEWERS  ;
Divide the mixture in equal parts.In wet palm take kebab mixture,keep pressing the kebab until they look like long logs.Now put wet wooden skewers inside the kebabs.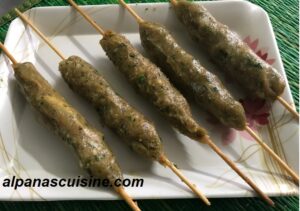 Heat the non stick tawa,grease it with butter.
Place kebab on the tawa,apply butter on top.Turning occasionally to cook the kebabs till they are brown from all the sides.Keep basting.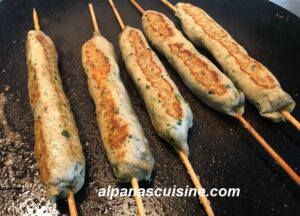 Remove the seekhs from the skewers,sprinkle chaat masala and serve hot with green chutney and sliced onion.