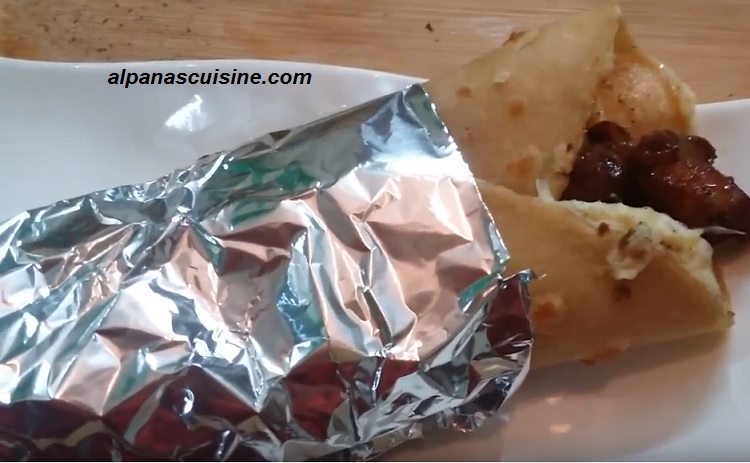 Chicken Egg Roll
The chicken egg roll is simplest recipe I had prepared but these  are the best homemade chicken egg rolls I have ever had. I have done some experiment with . They are so easy, once you try these you won't ever go back to buying from market.
INGREDIENTS
Bone less fried chicken  chopped into tiny pieces 100 gms
Egg beaten 2 no
Vegetable oil/ Olive oil 1 tbsp
Sliced onion 1 pcs
Copped green fresh coriander 1 tbsp
Black Pepper  1  tea spoon
Green chilies – 1/2  tea spoon
Wheat chapatti 1 pc
Salt to taste
Tomato and Chili sauce 1 tbsp
Lime – 1/2 cut
Aluminum foil for wrapping
METHOD-
Heat oil on tawa add beaten egg and spread and place chapatti over it.
Cooked both side and turn off the flame
Take egg  spread chapatti on a plate and place fried chicken pieces over it  and then Sliced Onion, Green chili, Tomato & Chili Sauces and sprinkle Black pepper , Salt and Lemon juice.
Wrap the egg roll in Aluminum foil .
Note:- You can also use left over wheat chapatti and chicken.