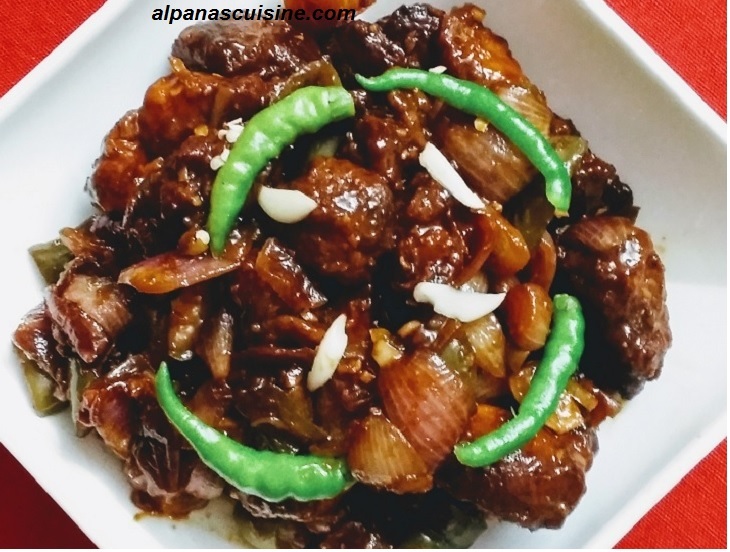 CHICKEN 65
Chicken 65 is one of the most popular snack or starter.It is very tasty,lip smacking and mouthwatering chicken recipe.Chicken 65 is made in many variations.Here I  have made it in a south indian version.Chicken 65 can be made in dry or gravy.
INGREDIENTS  :
Boneless chicken 500 grams
Yogurt 1/2 cup
Corn flour 1 tablespoon
Rice flour/multi purpose flour 1 tablespoon
Egg 1
Ginger paste 1 tablespoon
Garlic paste 1 tablespoon
Chicken 65 spice 1 tablespoon(home made)
Chicken 65 powder(dry ginger garlic,cinnamon,cardamom,clove and paprika powder)
 Onion 1  cut in cubes(optional)
Black pepper powder 1 teaspoon
Kashmiri red chilli powder 1 tea spoon
Lime juice/vinegar 2 tablespoon
Chopped Spring onion 2 tablespoon
Curry leaves 2 sprigs
Green chillies 3 nos
METHOD  :
Step 1_In a bowl take chicken pieces,add corn flour,rice/ multipurpose flour, 1/2 ginger garlic paste,chicken 65 powder ,egg,curd salt and mix well.Marinate for 1 hour.(for the juiciness,you have to leave more than 1 hour or leave overnight.
Step 2 _Heat the oil and deep fry the chicken pieces till they turn golden brown.Fry on a low heat and turning every once in a while,so that chicken cooked properly from inside.)Drain on the absorbent paper.
Step 3 _Heat the 2 tablespoon oil in a pan,mustard seeds, when it starts spluttering ,add remaining ginger garlic paste,green chillies, Onion cubes and curry leaves and fry for 30 seconds.Now add the fried chicken and toss well.
Step 4 -Cook fried chicken pieces  for 5 to 6 minutes.Remove from heat.
Garnish with spring onion and squeeze the lemon juice.Serve hot
NOTE -If you want to make gravy style,add 1 tablespoon cornflour slurry to chicken 65.