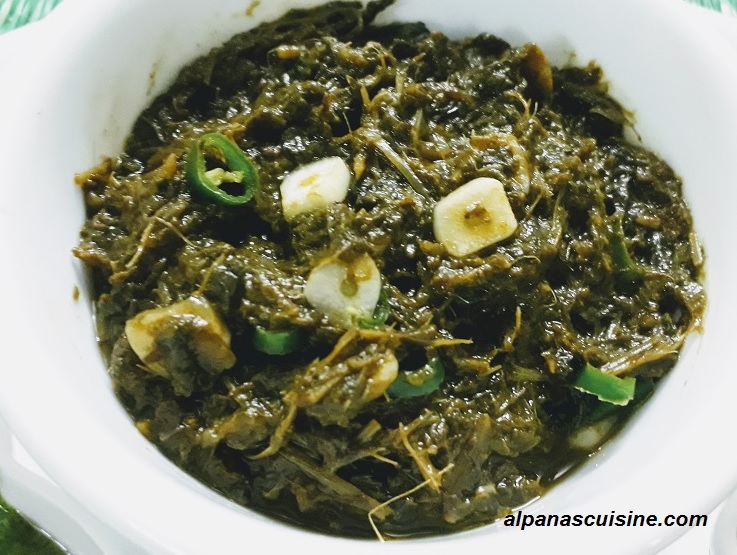 CHANE KA SAAG
From my terrace garden special CHANE KA SAAG.There are variety of saag(green leafy vegetables)in our country.But chane ka saag is little different.This is tender shoots of chickpea plant,it is plucked before the plant bear pods.This chickpea greens(chane ka saag)made with bathua ka saag which helps this saag in cooking fast. Chane ka saag is very famous dish during my grandmother days. Add Bathua with chane ka saag which is rich in Vitamin A , Blood purifier, loaded with crucial minerals. So in Chane ka saag , Bathua not only used for easy softening the saag  but add many nutrient .
INGREDIENTS :
Chane ka saag(chickpea leaves) 300 grams
Bathua ka saag(chenopodium album) 100 grams
Garlic chopped 2 tablespoon
Ginger chopped 1 tablespoon
Green chillies chopped 1 table spoon
Mustard oil 1 tablespoon
Asafoetida 1/4 teaspoon
Salt to taste.
METHOD:
Clean and wash chane ka saag.Take the soft and fresh bunch of chane ka saag.Separate leaves from bunch because sometimes bunch is hard.
Chop the chane ka saag and bathua ka saag finely.
In a cooker take the chopped saag leaves,add asafoetida,ginger and salt.Close the lid to steam and cook the saag for 1 whistle.Now low the flame for 12 to 15 minutes.
Turn off the flame and allow the cooker to cool down.Open the cooker,if there is water remain in the cooker then little dry it up and mash it.
Now transfer the saag into a bowl,add chopped garlic,green chillies and mustard oil and mixed well.Saag is ready.
Serve hot with missi roti /rice ,roasted tomato chutney and green chutney.