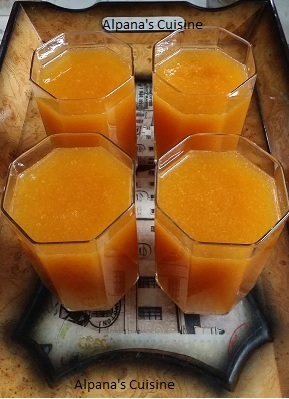 Bel (Wood apple) Ka Sharbat
Bel (wood apple) ka sharbat is a healthy drink . It is one of the most popular drink during summers. It helps people in indigestion and heatstroke.
Ingredients :
Wood apple : 1 pc
Sugar            : 4 table spoon
Method :
Wash wood apples and after cutting it take out it's pulp.
Take double the amount of water than the pulp of wood apple in a utensil.
Leave the pulp soaked in water for 2 – 3 hours (so as to make the pulp soft).
Now carefully take out the seeds and sticky part from the pulp of wood apple.(In pic)                        
Mash the pulp and mix it in water.
Sieve this mashed pulp using strainer and take out the thick juice using a spoon.
Now mix sugar in the thick juice.
Then add cold water / ice cubes , garnish it with mint leaves.
Bel ka sharbat is ready to serve .